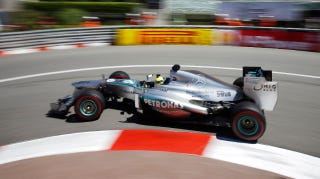 The gap to Red Bull Racing may ultimately have been huge, but nevertheless last season Mercedes AMG F1 did a good job to move up to second place in the World Championship last year. Between them, drivers Nico Rosberg and Lewis Hamilton logged three wins in a year when victories were hard to come by for anyone not called Sebastian Vettel.
For Nico, the 2013 season has to be regarded as the best of his F1 career to date. He scored two victories, the first in Monaco after a brilliant drive from pole, and the second at Silverstone after a late retirement for Sebastian Vettel handed him the lead. He also took poles in Bahrain and Spain, and held his own against Hamilton in the qualifying battle, losing out 11-8. He also wasn't far behind Lewis in the championship, the Brit winning the team battle by 189 points to 171.
Read our exclusive interview with Nico to get his take on changing perceptions, partnering Lewis Hamilton and F1's new regs.