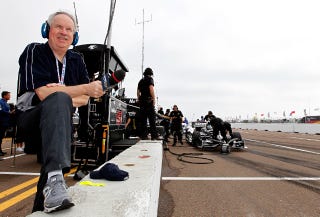 Would IndyCar be better off under NASCAR ownership? Where are the factory teams in IMSA? Will anyone step up to challenge GM and Honda at Indy? These questions and more in this week's bag.
Every Wednesday, veteran motorsports reporter Robin Miller answers fans' questions in Miller's Mailbag. And despite the term "Mailbag" being in the title, the only way to actually reach Robin is by email. If you have a question, send it to MillersMailbag@Racer.com.
Q: I have read on forums, etc. where people actually think IndyCar would be better off if NASCAR/ISC owned it but, having watched the Rolex 24, it's clear that if they did it would mean the end of IndyCar racing. For all those that might be critical of IndyCar race control, just take a look at what NASCAR has put in IMSA this year. How can a driver get a contact penalty with no contact? And, on top of that, the special rules they are giving certain classes and teams would come to IndyCar as well. The Hulman family has its flaws and I was on the CART side in the split but I'll take them running IndyCar any day over these clowns.‬‬ — Gordon Smith, Edmonton
RM: I think the people who say that are talking about NASCAR's infrastructure, layers of management, ability to market and promote – not so much the racing side. The bottom line is that whether it's sprint cars, motorcycles or sports cars, they would ALWAYS play second fiddle to stock cars. And at least the penalty was reversed. But the Hulman/George family hasn't run IndyCar in several years.
Q: As a marketing professional and lifelong IndyCar fan I've finally had enough... as in, more-pissed-than-the-split upset. At this point, with IndyCar displaying arguably the world's best racing product, it's time the folks at 16th and G'town took it to NASCAR – which, I believe, was complicit in giving Tony George valuable "advice" about starting the IRL, no? Why aren't the genius "marketing" folks going after stock cars? Why aren't we seeing IndyCar drivers in commercials talking about things like, "We do 190 mile an hour laps... in fourth gear," or "NASCAR? Sure, if you like racing in slow motion," or, "We make NASCAR look like granny out for a Sunday drive (complete with video of an old lady holding up traffic)."

The number one selling point with IndyCar is, and will forever be, speed. In the world of popular extreme sports, what could be more extreme than drivers moving at 240 miles an hour down the straight? As for Super Bowl ads, IndyCar should buy a 30-second spot and compare, say, Richard Sherman running the length of the field in 10-or-11 seconds... and then saying, "We can move 100 yards in two seconds — IndyCar, coming in March." Let's show some aggressive marketing, folks. — Patrick, West Des Moines, IA
RM: No argument that IndyCar is severely lacking in any kind of national advertising and replacing IZOD with a company that would spend marketing money on national TV commercials for the drivers and the speeds would be ideal. But I'd like to see IndyCar have a NASCAR-like commercial with the drivers that shows their personality and runs all year 'round.
Q: While it was good to see fast cars racing in anger again, I was a little disappointed in the whole IMSA United SportsCar series. I guess it was a bit much to expect the big factory teams joining IMSA but it was a sad sight to see the near parity between the prototypes and the old LMP2 class. It seems to be just a combination of the sanctioning bodies and not much more. To me, it seems like they just added another category to a spec racing series to put more cars on the track. I was wondering what your take on that is? — Jim O'Donnell
RM: Lot of bitching from both sides about rules and the timing of them but you figure by the time they get to Sebring (March 12-15) things should be a little better. I hate to see equivalency formulas in any series but at least sports car are back under one roof. Still, the ALMS had people excited about sports cars and you wonder if that enthusiasm will wane.