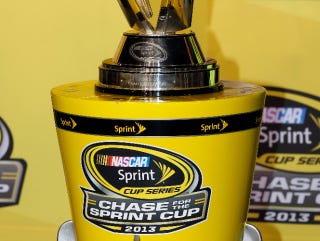 NASCAR announced a new championship format on Thursday that will put greater emphasis on winning races all season long, expands the current Chase for the NASCAR Sprint Cup field to 16 drivers, and implements a new round-by-round advancement format that "ultimately will reward a battle-tested, worthy champion," the sanctioning body said in its announcement.
"We have arrived at a format that makes every race matter even more, diminishes points racing, puts a premium on winning races and concludes with a best-of-the-best, first-to-the-finish line showdown race – all of which is exactly what fans want," said Brian France, NASCAR chairman and CEO. "We have looked at a number of concepts for the last three years through fan research, models and simulations, and also maintained extensive dialogue with our drivers, teams and partners. The new Chase for the NASCAR Sprint Cup will be thrilling, easy to understand and help drive our sport's competition to a whole new level."
Changes announced by France to the championship format include:
A victory in the first 26 races all but guarantees a berth in the 10-race Chase for the NASCAR Sprint Cup – a change that will put an unprecedented importance on winning a NASCAR Sprint Cup Series race all season long
Expanding the Chase field from 12 to 16 drivers, with those drivers advancing to what now will be known as the NASCAR Chase Grid
The number of championship drivers in contention for the NASCAR Sprint Cup championship will decrease after every three Chase races, from 16 to start in the Chase Grid; 12 after Chase race No. 3; eight after Chase race No. 6; and four after Chase race No. 9
The first three races of the Chase (27-29) will be known as the Challenger Round; races 30-32 will be known as the Contender Round; races 33-35 will be the Eliminator Round and race No. 36 will be the NASCAR Sprint Cup Championship
A win by a championship-eligible driver in any Chase race automatically clinches the winning driver a spot in the next Chase round
Four drivers will enter the NASCAR Sprint Cup Championship with a chance at the title, with the highest finisher among those four taking the Sprint Cup Series championship.