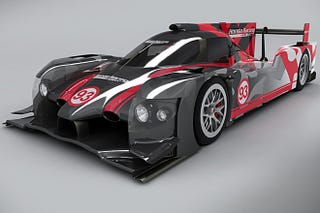 The market for brand-new P2 cars will be flooded in 2015 as Ligier, ORECA, Dome and a few other manufacturers bring their designs into the marketplace, and they'll have stiff competition from Honda Performance Development looks to reassert itself with the HPD ARX-04b.
Penned by England's Wirth Research and California's HPD, the marque's first coupe design bears little resemblance to its ARX predecessors or, for that matter, any of the other P2 cars it will compete against.
According to Wirth, the ARX-04b features considerable amounts of technology found within his recent (albeit stillborn) P1 coupe project, and with the lineage of the current ARX-03b P2 car dating back to the Acura ALMS effort, the new P2 coupe is meant to put the past to rest and start a new chapter with a clean-sheet prototype design.
"The bottom line is, you probably know more than most people how long they've been working on our P1 car, and actually, from HPD and Wirth Research's point of view, the last time we had a car on the track which represented the limit of our group's knowledge was in 2010 with the ARX-03c," Wirth told RACER. "It was the car run by Strakka in the WEC in 2010 when they blew everyone's doors off in Le Mans.
"So we had not started developing coupes at that point, and yes, it wasn't a P1 car, but that [ARX-03c], with all the technologies from the [2009] P1 program put back into the P2 car, to that set of rules, was the best car that we could build as a group (Continued).
By: @MarshallPruett