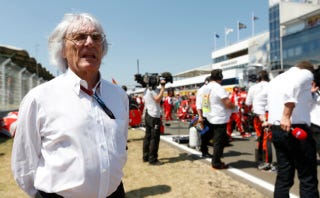 Bernie Ecclestone says the new Formula 1 team proposed by NASCAR team co-owner Gene Haas is "most unlikely" to get the green light due to the high costs of entering the sport.
In December, the FIA opened a tender for a 12th team to join from 2015 and last week Gene Haas, joint owner of NASCAR's Stewart-Haas Racing, announced that he had made an application. However, Ecclestone said: "They have been talking about it for three years. Two or three people there. I would say it is most unlikely."
Haas is also the founder of engineering firm Haas Automation, which has an annual revenue of around $1 billion, while Guenther Steiner, a former technical director of four-time F1 champions Red Bull Racing, is understood to be working alongside Haas on the project.
"It's no good proving someone has got the money," says Ecclestone. "Somebody can have 10 billion in the bank but it doesn't mean they are going to spend it. It's nothing to do with having enough resources. You can't tell them to make a commitment because it's a commitment to do what? It's always been like that." More from Ecclestone here.