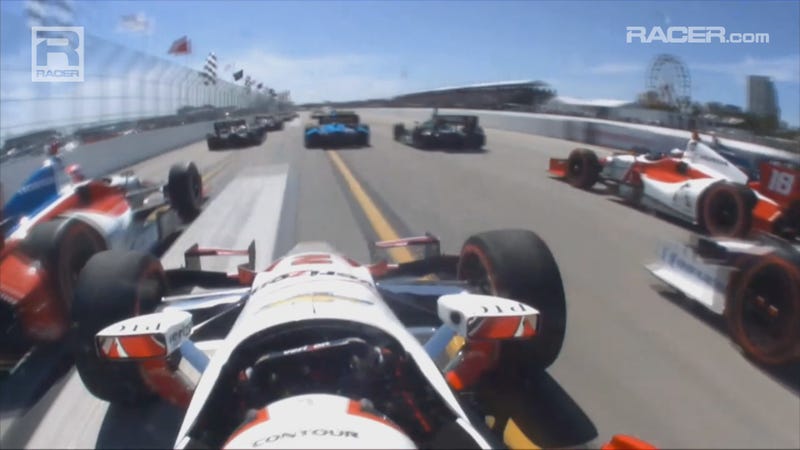 Take the best clips from six in-car camera feeds at the Firestone Grand Prix of St. Petersburg, site of the championship opener for the Verizon IndyCar Series, and you're bound to find plenty of excitement.
Three-time Indy 500 winner Helio Castroneves starts off our In-Car Theater with the view of his race start, and by the end of the event, he'd secure a strong third-place result. Be sure to watch for another start of Helio's…a controversial one where his teammate and eventual race winner Will Power was accused of slowing the field and causing an accident. You ride with the Brazilian, who was inches off of Power's gearbox, and have a clear picture of what did or didn't take place.
Next we move to Ganassi Racing's Ryan Briscoe, followed by a shift to 2012 IndyCar Series champion Ryan Hunter-Reay who chases pole sitter Takuma Sato on his way to a second-place finish in his Andretti Autosport entry.
Then we jump cameras from RHR to JPM, Team Penske's Juan Pablo Montoya, as he fights for position with Simon Pagenaud. Watch later in the video when the amazing three-wide pass between JPM, Marco Andretti and rookie Jack Hawksworth takes place—it's electrifying.
Defending IndyCar Series champion Scott Dixon has very little room to spare in his Target Chip Ganassi Racing car as he slides and jostles for position with Will Power, and our sixth and final in-car view, courtesy of Rahal Letterman Lanigan Racing driver Graham Rahal, closes this first installment of In-Car Theater for the 2014 season with the Ohioan's incredible pass-everything-in-sight opening lap.
Enjoy the ride from Round 1 in St. Petersburg, and get ready for another run from the Verizon IndyCar Series next week as the tour stops on the streets of Long Beach.
By: @MarshallPruett