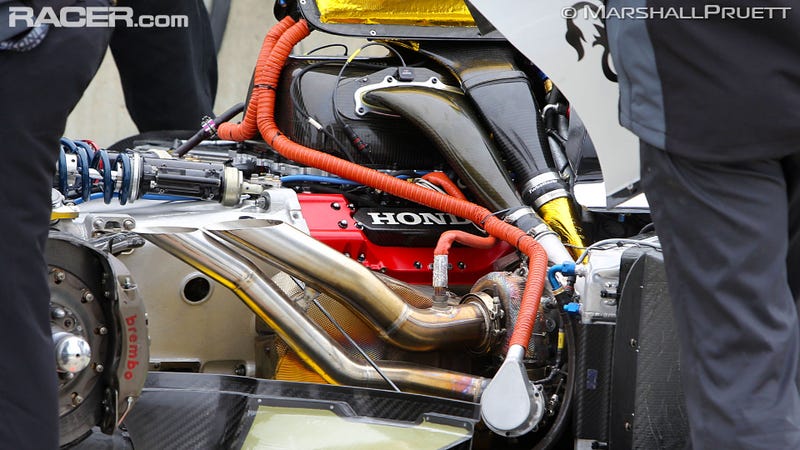 With two years of strong competition between Chevy and Honda under IndyCar's 2.2-liter turbocharged engine formula, planned upgrades for the 2014 season have given both manufacturers some leeway to make more horsepower and torque.

The 2.2-liter displacement remains unchanged, but many items have either been opened for re-homologation or redefined.

Changed from the original set of engine rules produced in 2011, manufacturers are now required to build V6 engines, which is altered from the previous language that simply restricted the number of cylinders to six. The option to use single- or twin-turbo systems has also been revised, deleting the single solution altogether.

Of the open areas for Chevy and engine partner Ilmor Engineering, and Honda through its Honda Performance Development arm, almost everything that attaches to the block was available for a complete redesign or major modifications.
"The whole top end, basically from the fire face up is what Chevrolet took a look at and improved on or went away and redesigned and hopefully came up with a gain," Ilmor IndyCar program director Wayne Bennett told RACER. "That's what we did. Basically from the fire face up, the heads are different based on the same casting, the plenum is different, induction system, fuel system. All of things we're allowed to change we did."
The move to a larger spec turbo allowed Chevy and Honda to start from scratch with new exhausts, turbo piping, a larger plenum, and to position the turbos within the chassis as they desired. New heads, provided they fit within the existing casting, and new camshafts are permitted. High-pressure direct-injection fueling has been the norm since they began racing in 2012, and both manufacturers took the opportunity to combine what they've learned with fresh ideas as new DI systems were developed during the off-season. (Continued)