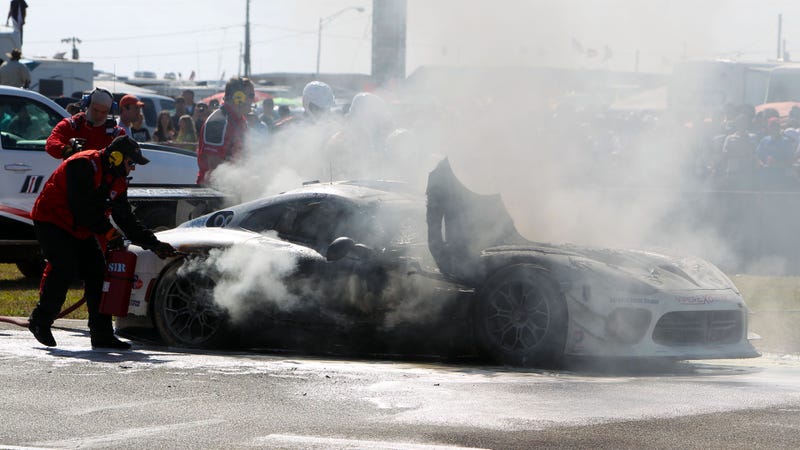 [No one who watched this year's Mobil 1 Twelve Hours of Sebring needs to be told that, although there were plenty of racing thrills in all classes, there were way too many spills, too, as well as operational blunders that tended to exaggerate the consequences of the many incidents and accidents. We greatly appreciate Scott Atherton giving up an hour of his time to listen to RACER's Marshall Pruett about his view from trackside and media center, and to put forth his own opinions on what was wrong, why it was wrong, and how it will be fixed. Racing purists – and we count ourselves very much in that category – will hopefully feel some reassurance at IMSA's ongoing efforts to eradicate the negatives (and turn yellow flags to green) as soon as possible. – David Malsher, RACER Editor.]
MARSHALL PRUETT: Let me start with a bit of a preamble, Scott, so you get a feel for where my questions are coming from, or at least have some sort of context as to why they're being asked. This year's Sebring ranks as the angriest as I've ever been at a racetrack. I was almost by myself in the media center working on whatever I was working on a few hours after the race, but I caught myself, teeth clenched, staring down, didn't want to be bothered, just livid. I took a moment to think about it, trying to rationalize why. And it was a few different things. One, it was probably the worst race I've ever seen in terms of a product delivered to fans, paid for by entrants and drivers, manufacturers. We know about the number of cautions, we know about the length of those cautions – unacceptable length of many of those cautions. We know that the poor driving standards. We've certainly seen a need for licensing procedures to, I would say, definitely be reviewed before we get to our next Pro-Am event.
We saw officiating errors that were made and then compounded by other errors made. It was just something to me – it made me angry compared to other emotions I might have felt because this is at least half of how I make my living and has been for many years – since we first met – and it's a way many of us make our living. So I left feeling angry and sad that we had put on such a poor overall display. I'm not saying we lacked highlights. When the racing was green I think we had phenomenal racing. But as a taste left in people's mouths, based on social media and probably based on what you've heard, seen or read since, I would say it was not a day that many of us will look back on in a positive light.
So that's the preamble. My first question would be, who came in Monday morning, assembled the staff and pounded the proverbial table and said, "We must do better!"? And I ask that because that's what I hope happened. And I know it's a very general statement and a general sentiment maybe, but I know that I'm hoping that there was some recognition, if not an emotional recognition within the halls, that we have to do better. Am I on point, off point, or misreading the situation from your perspective?
SCOTT ATHERTON: Well, I can answer your question very quickly because it was me and it wasn't Monday morning, it was Sunday morning and it was 7:30 a.m. And it was at my office at the track. And it required rearrangement of travel plans and that was the least of my concerns. Because everything that you referenced in your preamble was a part of my mindset Saturday night as the facts became known. And, like you, I found myself very mixed because they were so many positives, so many bright lights and things to be proud of coming through the entire event. (Continued)