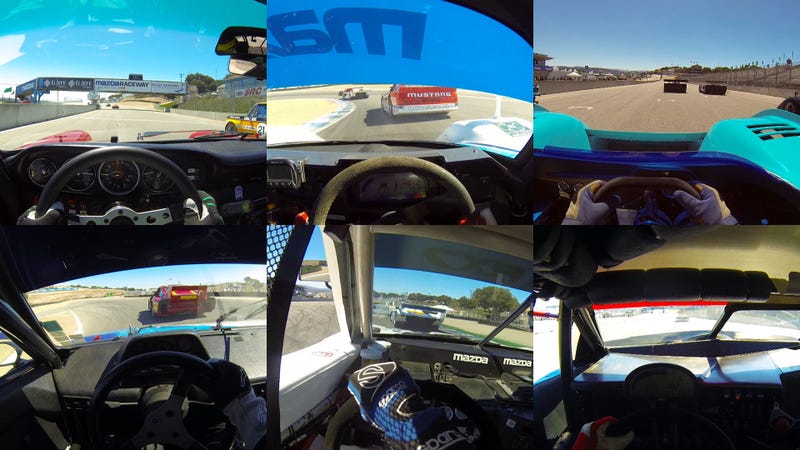 Take a series of incredible rides from last weekend's vintage racing festival at Mazda Raceway Laguna Seca in Monterey California where some of the fastest most powerful racecars of yesteryear were pushed to their limits by a number of championship-winning pro drivers.
1990 Mazda 787 Visor Cam with Sylvain Tremblay
Prepare to cover your ears as pro racer Sylvain Tremblay goes from 22nd to fifth in just a handful of laps with Mazda's screaming 4-rotor 787 Le Mans Group C prototype from the 1990 24 Hours of Le Mans.
1967 Porsche 911S Visor Cam with Patrick Long
Porsche factory racing driver and all around American bad ass Patrick Long straps into a glorious 1967 Porsche 911S vintage racer and uses every single one of the 8100 rpms at his disposal to chase much faster cars at Mazda Raceway Laguna Seca during the 2014 Rolex Monterey Motorsports Reunion.
1972 McLaren M8F Can-Am Visor Cam with Rick Knoop
Take an amazing ride with former IMSA GTP racer Rick Knoop as he pushes his incredible 8-liter V8-powered 1972 McLaren M8F Can-Am car during the Rolex Monterey Motorsports Reunion. With more than 800hp under his right foot and not much downforce, Knoop is forced to respect the beast in the corners—big wheelspin arrives as soon as he gets aggressive with the thunderous engine mounted just over his shoulders.
1980 IMSA BMW M1 Visor Cam with Randy Pobst
Pro racer Randy Pobst wheels a gorgeous IMSA GT BMW M1 from 1980 during the vintage races at Mazda Raceway Laguna Seca, and makes the sonorous inline-6 cylinder engine sing as he fights with twin turbo Porsches and other rapid machinery from IMSA's glory years.
1991 Mazda RX 7 GTO Visor Cam with Jeremy Barnes
Take another ride in a rare 4-rotor Mazda racecar as Jeremy Barnes wheels the 1991 IMSA GTO RX-7 at Mazda Raceway Laguna Seca during the 2014 Rolex Monterey Motorsports Reunion.
1994 Nissan 300ZX IMSA GTS Visor Cam with Steve Millen
Two-time IMSA GTS champion Steve Millen is reunited with his 850hp Nissan 300ZX 20 years after he last drove the car at Laguna Seca, and the racing legend doesn't disappoint in The RACER Channel's latest visor cam video.