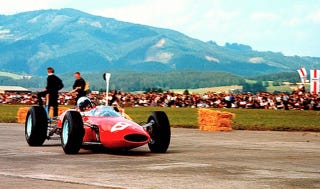 Formula 1's biggest technical shake-up in decades is underway, and what little we can deduce from test times and reliability so far, we're expecting some unusual winners in 2014 – perhaps from drivers who may never win again. So which F1 drivers scored the greatest one-off wins since the World Championship began in 1950? Adam Cooper delves into the history books…
The history books reveal that just 22 drivers have scored a single Grand Prix victory, assuming one doesn't include any winner of the Indy 500, anomalously included in the World Championship from 1950-'60. Take out Luigi Fagioli and Luigi Musso – who both shared 'half' wins with Juan Manuel Fangio when asked to hand over their cars – and it becomes an even more exclusive group.
It includes a few names who would or could have gone on to score more victories had fate not intervened, such asLorenzo Bandini (ABOVE, winning at Zeltweg, Austria in 1964), Ludovico Scarfiotti, Francois Cevert, Carlos Pace, Gunnar Nilsson and Alessandro Nannini. Others simply enjoyed their day of days, when everything fell into place and they elevated themselves from being mere grand prix drivers to grand prix winners.
Almost by definition, few one-offs were dominant victories achieved from the front – very often either wet weather or mechanical attrition ensured that the ball bounced around the roulette wheel a few times before finally settling on a lucky winner.
So what of the top 10 greatest one-off wins? Some races involved so much good fortune for the eventual winner that they didn't earn a spot. Giancarlo Baghetti may have won his first ever World Championship Prix start at Reims in 1961, but his triumph came only after his three senior Ferrari teammates retired, leaving him in comfortably the fastest car to reach the checkered flag. That same year Innes Ireland scored a somewhat fortuitous first win for Team Lotus at Watkins Glen – but that was a race Ferrari skipped completely.
However, some worthy victors just missed the grade. Cevert won in Watkins Glen in 1971 after teammate Jackie Stewart hit handling problems, but he did beat the rest of the field fair and square, while Scarfiotti put in a solid performance to triumph on home ground for Ferrari at Monza in 1966.
Nor did we consider Pastor Maldonado, Heikki Kovalainen or Robert Kubica for this list, since all three are still active in motorsport, and we would love to see the last named make a return to F1.
It's interesting to note that in most cases on our final list, the car involved was also a rare winner: Seven were one-off wins for that marque in the given season. In two other examples (Peter Gethin and Pace) the cars had a second win with a different driver. Only the Lotus 78 of Nilsson was – in the hands of his teammate Mario Andretti– a regular pace setter.
Just to clarify - we're not ranking the driving talent of the winners, but the quality of the win.
10. 1959 Dutch GP, Jo Bonnier (BRM)
Swedish gentleman racer Jo Bonnier is unfairly remembered as a journeyman whose F1 career fizzled out in 1971. But a decade or more earlier he was capable of running regularly in the top six, and on one weekend in Holland in 1959, he did rather better than that.
After scratching around in privateer Maserati 250Fs, "JoBo" joined BRM at the end of 1958, which led to a full-time drive the following year. The rear-engined Cooper was already the car to beat, and so the BRM P25 was part of a fading generation. But at Zandvoort Bonnier took pole, boosted by having tested the week before. In the first part of the race, he battled with the works Coopers of Masten Gregory and Jack Brabham, until both suffered gear selection problems, and the BRM got back in front. With 15 laps to go, Bonnier lost the lead to Stirling Moss, but just three laps after that the Rob Walker-run Cooper also suffered gearbox dramas. Bonnier retook the lead and ran steadily to the flag to record BRM's first ever grand prix win.
Bonnier raced in F1 for another 12 seasons, but never bettered fifth place.