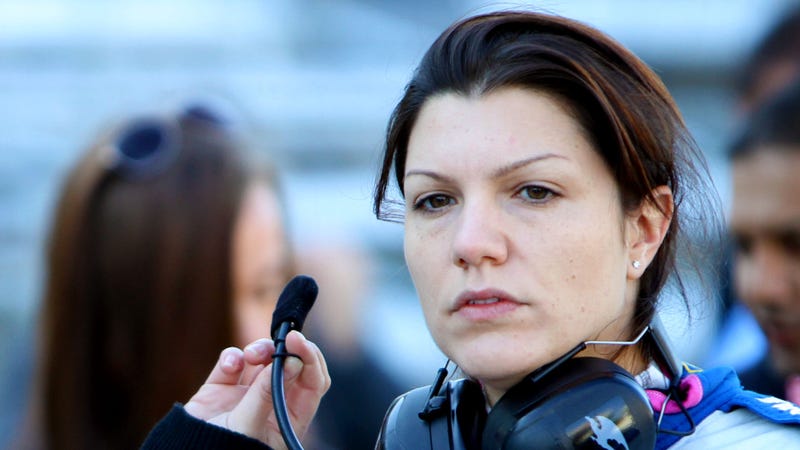 Katherine Legge wants to race in her third consecutive Indy 500. The Verizon IndyCar Series wants to see Legge try to qualify for one of the 33 grid spots available for the 98th running of the Greatest Spectacle in Racing. Engine supplier Chevy wants to see her in the qualifying line this weekend, and Honda, which is powering a disproportionate number of cars, has also offered to support her with an engine if it's absolutely needed.
Despite her drive and desire to compete and the support from the series and both engine manufacturers, the 33-year-old native of England is missing the one crucial piece needed to make it happen: A team willing to field a car and run her.
"One thing about me is that I never give up!" Legge told RACER. "I have spoken to every team trying to get an opportunity. At this stage it is likely limited to Chevy teams. Honda have been great, and have tried to help, but they already have 18 cars. Of the Chevy teams out there, it then becomes a case of who has a car, and the capability to make this happen.
"Obviously they don't want to take away from their existing programs, so if it gets to later in the week and they don't need their spare car, maybe there will be a couple of teams willing to take a shot at another qualifying entry."
IndyCar's interest in seeing Legge attempt to qualify is all about adding drama to time trials, and with a sizeable fan base to appease, the series would love to have her make another thrilling run to make the field. Legge would make Indy's 34th entry, meaning she could bump one of the existing drivers from the field, although she doesn't believe this has anything to do with the reticence she's encountering.
"Yes, [IndyCar has] been fantastic," she added. "I really can't thank them enough for their help and support. You really learn who your friends are in this situation and I am grateful to those that are helping me.I really haven't gotten the impression, in any way shape or form, that it's got anything to do with bumping out an existing driver.
"If you're worried about your driver being bumped then they probably don't have a realistic option to win the 500, and so the only reason you would be doing it would be to gain experience for the future. In my case I have that experience, and to me, you only go into this race if you're there to win."
Legge, who drives full-time for DeltaWing Racing in the TUDOR United SportsCar Championship, was an IndyCar Series regular through the 2012 season, and returned to Indy last year as a last-minute addition to the Schmidt Peterson Motorsports roster in the No. 81 Honda. She made the show after the bare minimum of practice, finishing 26th, and as one of few drivers left looking for an Indy-only ride, want to keep the turn-up-and-drive tradition alive.
"Last year was fantastic, I am so grateful to Sam Schmidt and the entire SPM group for giving me the opportunity in such a good car," she said. "We were fast on carb day, and during the race we were moving through the field pretty convincingly. I was too impatient to get to the front considering we started at the back, but I have learnt from that error, and feel like I can legitimately be in with a shot given equal equipment again.
"It has been a long road trying to put a deal together for this Indy 500. The funding was put together later than we wanted, but I'm ready to go and hope someone will make an opening for me to participate."
By: @MarshallPruett